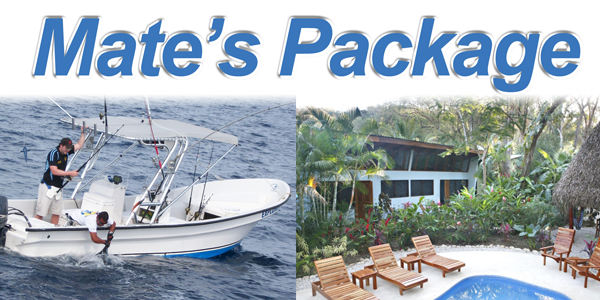 Entry level package for up to 3 anglers.
1 week (7 nights) in Casa Tranquilo, Casa Surfeando or Apartemento (sleeps up to 3 persons)
Three Half-days (5 hours) of fishing on 26′ Explorer. Each trip includes water, fruit and snacks. Choice of morning or afternoon start time.
$2050 Total
$685 per person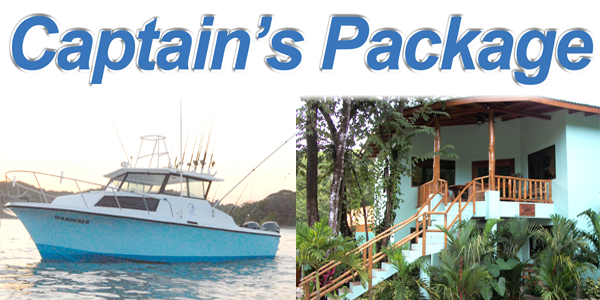 Entry level package for 4 anglers.
1 week (7 nights) in Casa Bonita, Casa Caribe or Casa Jardin (sleeps up to 6 persons)
Three Half-days (5 hours) of fishing on 32′ boat. Each trip includes water, fruit and snacks. Choice of morning or afternoon start time.
$3350 Total
$840 per person

Fully-loaded package for 6 anglers.
1 week (7 nights) in Casa Capitan (sleeps up to 9 persons)
Three Full days (8 hours) of fishing on 32′ boat. Each trip includes water, fruit and snacks.
Include Four Passenger Safari Cart for 7 days.
$4875 Total
$815 per person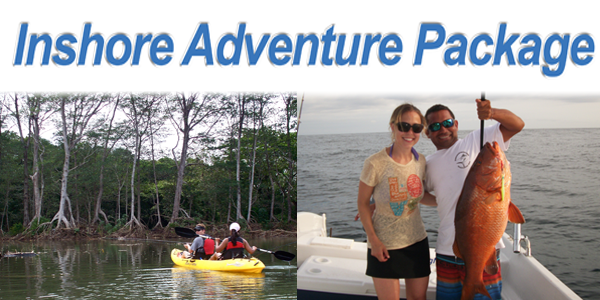 Inshore fishing package for 4 anglers.
1 week (7 nights) in Casa Bonita, Casa Caribe or Casa Jardin (sleeps up to 6 persons)
Kayak Safari Tour. Trip includes water, fruit, snacks, guide, equipment and lunch.
Horseback Mountain Safari Tour. Trip includes water, fruit, snacks, guide, equipment and lunch.
Fishing Safari Tour. Trip includes water, fruit, snacks, guide, and equipment. Choice of river mouth or beach casting.
One Half-day (5 hours) of fishing on 26′ Explorer. Trip includes water, fruit and snacks. Choice of morning or afternoon start time.
$2600 Total
$650 per person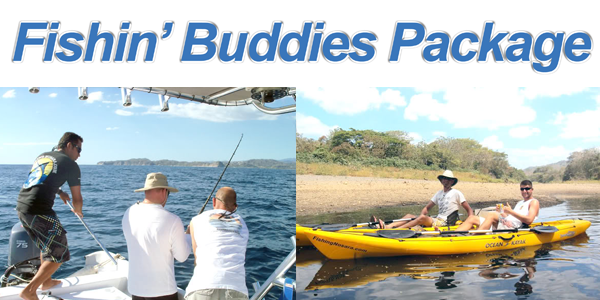 Mixed fishing package for 2 anglers.
1 week (7 nights) in Casa Bonita, Casa Caribe or Casa Jardin (sleeps up to 6 persons)
Kayak Safari Tour. Trip includes water, fruit, snacks, guide, equipment, and lunch.
Fishing Safari Tour. Trip includes water, fruit, snacks, guide and equipment. Choice of river mouth or beach casting.
Three Half-days (5 hours) of fishing and/or snorkeling on 23′ Adventurer. Trip includes water, fruit and snacks. Choice of morning or afternoon start time.
$2400 Total
$1200 per person

Romantic getaway for couples.
1 week (7 nights) in Casa Tranquilo or Casa Surfeando (sleeps 2)
Champagne and Chocolate Check-in
In-house couples massage for two.
In-house Breakfast for 5 days includes assorted local breads, fruit, yogurt, coffee, and juice.
Full service cleaning including wash/dry/fold laundry.
Private 2 person Horseback Mountain or Kayak Safari Tour. Trip includes water, fruit, snacks, guide, equipment and lunch.
Sunset fishing trip (2.5 hours) on 32′ boat. Trip includes water, fruit, cookies and champagne.
$2400 Total
$1000 per person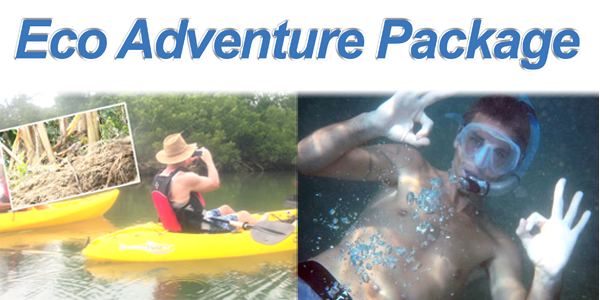 Nature exploration package for 2 persons.
1 week (7 nights) in Casa Tranquilo, Casa Surfeando or Apartemento (sleeps up to 3 persons)
Kayak Safari Tour. Trip includes water, fruit, snacks, guide, equipment, and lunch.
Horseback Mountain Safari Tour. Trip includes water, fruit, snacks, equipment, guide, and lunch.
Snorkel Safari Tour. Trip includes water, fruit, snacks, guide, equipment, and lunch.
Two bicycles for 7 days.
In-house couples massage for two.
$1400 Total
$700 per person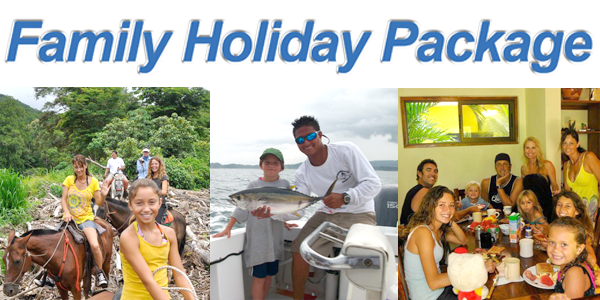 Fully-loaded package for families up to 9 people.
1 week (7 nights) in Casa Capitan (sleeps up to 9 persons)
In-house Breakfast for 5 days includes assorted local breads, fruit, yogurt, coffee, and juice.
Full service cleaning including wash/dry/fold laundry.
One Half-day (5 hours) of fishing on 31′ Wanderer. Each trip includes water, fruit and snacks. Choice of morning or afternoon start time.
Safari Tour for up to 8 people (Snorkeling, Kayaking, Horseback, Fishing, Surfing, Eco). Trip includes water, fruit, snacks, guide, equipment, and lunch.
Include Six Passenger Safari Cart for 7 days.
$5000 Total


Airport Transportation
Nosara Transport features top-of-the-line vehicles that are rigorously inspected to ensure a safe and swift trip. Our friendly drivers provide door-to-door service to the major airports. Avoid the hassles of the Taxi Stand by having your transportation arranged ahead of time.
One way to/from Liberia Airport: $150  (up to 7 people)
One way to/from San Jose Airport: $250 (up to 7 people)
Water and Snacks included. Beer and wine available for an additional fee


Lodging at Nosara Paradise Rentals
Located next to the Nature Preserve, Nosara Paradise Rentals is an ecologist's dream; from the monkeys sunning above the pool to the Pizotes wandering through the gardens.
Also all of our units come complete with all the necessary amenities to fully enjoy your stay: all kitchen appliances, utensils, microwave, blender, towels, linens, et cetera.
Nosara Paradise Rentals features a complete support staff (gardener, concierge, cleaning and laundry services available) to ensure that your stay is as trouble free as possible.
Las Quartos

Type: Efficiency, 1 Bed/1 Bath
Location: Nature Preserve/Garden
Sleeps: 1-2
Rate: $400.00/week or $80.00/day
Get More Details – CLICK HERE
---
Apartemento

Type: Studio Apartment
Location: Nature Preserve/Beach
Sleeps: 4
Rate: $600.00/week or $100.00/day
Get More Details – CLICK HERE
---
Casa Surfeando

Type: Studio Apartment
Location: Nature Preserve/Beach
Sleeps: 3
Rate: $600.00/week or $100.00/day
Get More Details – CLICK HERE
---
Casa Tranquilo

Type: Studio Apartment
Location: Nature Preserve/Beach
Sleeps: 3
Rate: $700.00/week or $115.00/day
Get More Details – CLICK HERE
---
Casa Jardin
Type: House, 2 Bed/2 Bath
Location: Nature Preserve/Garden
Sleeps: 5
Rate: $1400.00/week or $235.00/day
Get More Details – CLICK HERE
---
Casa Bonita

Type: House, 2 Bed / 2 Bath
Location: Nature Preserve/Beach
Sleeps: 6
Rate: $1400.00/week or $235.00/day
Get More Details – CLICK HERE
---
Casa Caribe
Type: House, 2 Bed / 2 Bath
Location: Nature Preserve/Beach
Sleeps: 7
Rate: $1400.00/week or $235.00/day
Get More Details – CLICK HERE
---
Casa Neptune

Type: House, 2 Bed / 1.5 Bath
Location: Nature Preserve/Beach
Sleeps: 8
Rate: $1400.00/week or $235.00/day
Get More Details – CLICK HERE
---
Casa Privada
Type: House, 3 Bed / 2 Bath
Location: Nature Preserve/Beach
Sleeps: 12
Rate: $1800.00/week or $300.00/day
Get More Details – CLICK HERE
---
Casa Capitan

Type: House, 4 Bed / 3 Bath
Location: Nature Preserve/Beach
Sleeps: 9
Rate: $2000.00/week or $335.00/day
Get More Details – CLICK HERE
---