Thanks for the outpouring of support via email and Facebook the last few hours. We're okay so far…all people accounted for and safe. The boats have been out of the water so they're fine, however tsunami watch is in effect.  
We are currently evaluating the damage to the houses. So far it looks like a few of the microwaves were destroyed and our tackle shop go rearranged, but if that's the worst of it then we are clearly very fortunate.
Almost everyone in the area has been affected, but amazingly one two fatalities have resulted from this event in the entire country. Still the pictures reveal the incredible impact of a 7.6 magnitude quake.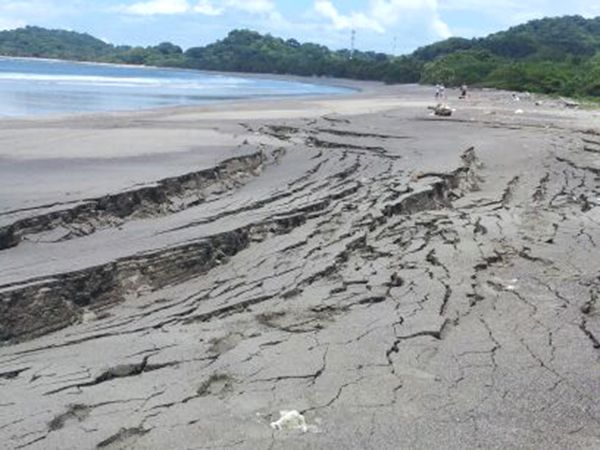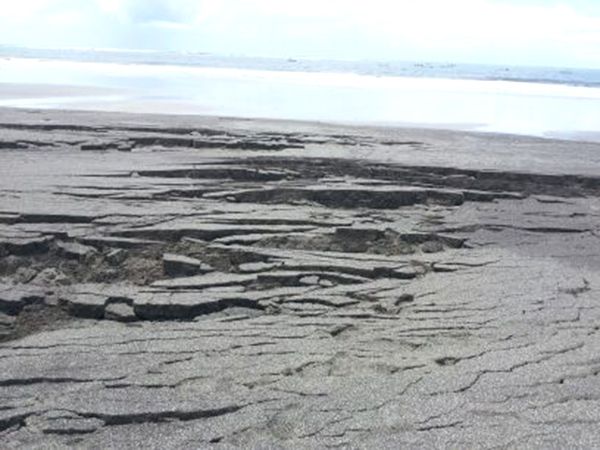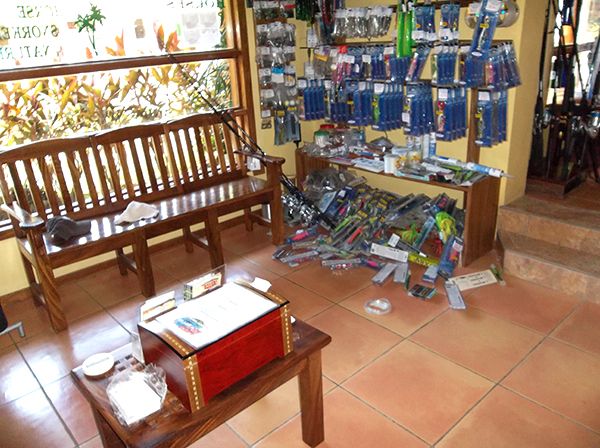 Lots of pictures and accounts are popping up on Facebook, so if you want to get a good Nosara view of things check out the photos coming into our timeline: Nosara Paradise Rentals Facebook Page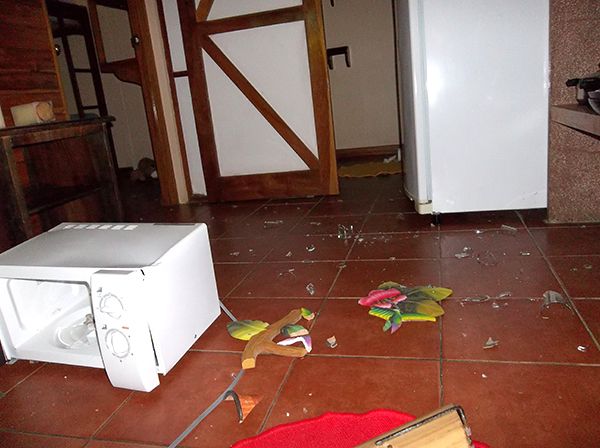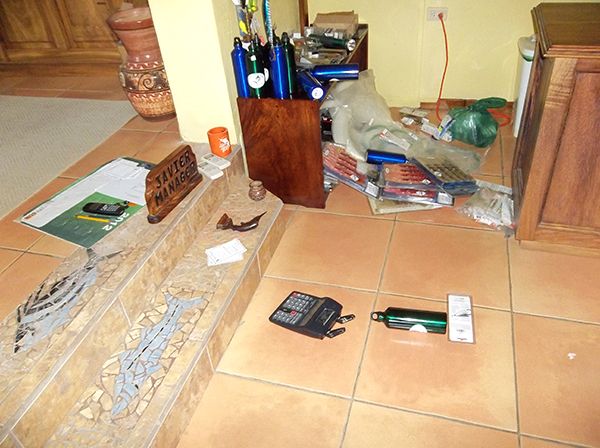 The sign that says "Javier – Manager" in the above picture on the second step is usually on the desk ten feet away…this is precisely where it landed once the shaking stopped.  
 Jeff Grosshandler: 
"Very glad to report NO DAMAGE to Namaste Oasis Costa Rica !!! Everyone seems to be safe here, no tsunami, but the ocean did recede quite a bit. No power so going to shut down computer and cell phone now, but all seems to be good. there is some damage to anything built from wood or without rebar. hey look on the bright side.. now that its over, we wont be having another one of those for a loonnnnnng time! 7.6 earthquake CRAZY!! If I hadnt been frozen stiff when it got intense I so wish I grabbed my iphone and filmed that. It was nuts!!!"
 Doug Treadway:
"Everybody is safe here! Not a lot of damage except to a few places in Pelada! I think everyone escaped a big one in Nosara! Super is open but in shambles! Letting only a few people in at a time! Get your water now!!! Last post for three days no electricity but all is good! Thanks to all concerned about us! Everyone very thankful!!! Love ya everybody!"
 Voice of Nosara:
"The church of Nosara is closed because it suffered serious damages. The 5 floor building right across from the soccer field in Nosara town also suffered severe damages and the Nosara Development Association along with other institutions and thinking to demand its demolition. The Super Nosara is the first super market that opened and people are buying propane gas and water.  
 Jack Phillips:
"I'm not saying my house was clean and tidy but that earthquake definitely made it messier."
 Here's the link to the scientific details of the event: http://earthquake.usgs.gov/earthquakes/dyfi/events/us/c000cfsd/us/index.html