Well the team is back together as Matty, Craig Jr., and Craig Sr. put the finishing touches on the refit of the Wanderer and made it back to Florida last weekend. We finally got our hands dirty on the Discoverer again after a barnstorming trip to Tampa for the Florida Sportsman Expo the day after we got back from Nosara.
So through the hazy fog produced by jet lag, culture re-acclimation, and soothing wives/girlfriends angry with us for always being gone, let's take a look at the current state of the Discoverer:
You can see that the DA sanding of the hull is moving along nicely, and we almost have all of the shiny spots roughed up. One more day of sanding and she will be nearly ready for paint.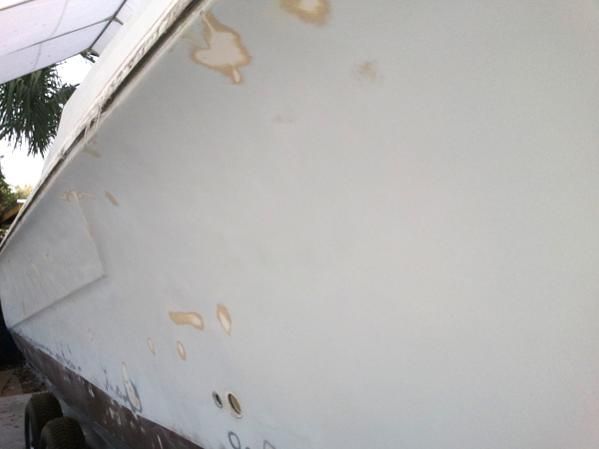 Charlie Keen has worked his magic on all of the holes in the rear transom as well as the pickups under the boat; last post we mistakenly reported that the boat was being lifted on pipe jackstands when in fact those stands were holding in the fiberglass plugs.
Notice anything missing in that last picture? If you said "half of the floor that covers the fuel tanks" then you are correct.
We weren't sure the size or conditions of the fuel tanks until Craig and Jack started cutting, and what we found is shocking. This pair of 120 gallon tanks are the largest I've ever seen in a T-Craft and getting them out will be a challenge.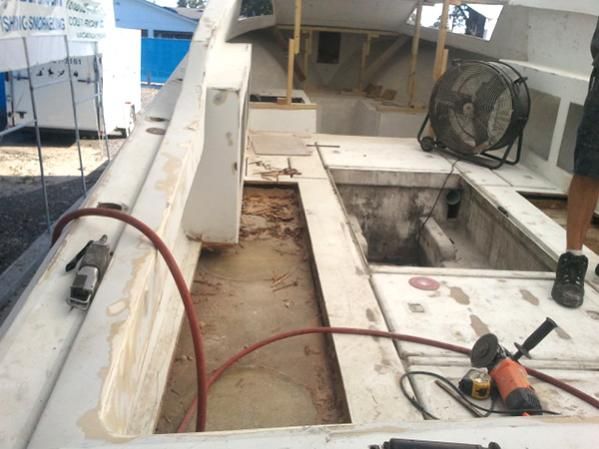 Notice that in the rear these tanks butt up to the transom, and up front they are covered by the side benches. These benches are fiberglassed directly to the hull so their ain't no removing them except via the sawzall. On the Wanderer the 100 gallon tanks lifted right out through properly cut access panels; on the Discoverer we will have to get more creative.
Our working plan is to drain the tanks then cut them into small enough pieces to remove.
Afternoon Update:
Just ran outside and shot some up-to-the-second pics. Here is the aforementioned jackstand that is holding in the bottom fiberglass plugs:
Here we see the starboard side bench cut out to allow for removal of the tank. This cut killed our cut-off grinder, so it's off to the hardware store to buy another…bummer.