Our clients are the most important people in the world to us.
Here's what people are saying about their Costa Rica Vacations:

In the era of TripAdvisor and other cyber-review sites, how can you know what to trust?
If your are weary of fake fishing reports and untrue testimonials, then click this button for HANDWRITTEN TESTIMONIALS from the FishingNosara flagship Wanderer's 2014 season:

Craig,
"Just wanted to let you know that my group and I (weather not withstanding) had a great time in Nosara."
"The housing was clean, comfortable and well equipped. Your staff was pleasant and took very good care off us."
"Although the weather didn't cooperate with our stay, Cpt. Alex and Kevin managed to get us out the three days and found fish."
"We all highly recommend your company."
Ron Lard
September 15, 2016
King George, VA


"What a great trip! I'm an avid fisherman in Florida and the Bahamas, but this blew all of my other trips away. Everyone from Craig (owner / booking) to Matt and all of the captains & crew were great."
"We fished 3.5 days and caught 26 billfish, 5 dorado (one at 60 lbs) and 16 yellowfin tuna… not to mention the cubera snapper, amberjack and other inshore fish. We fished mostly on the Wanderer, Harvester and Explorer. All were great, but my favorites were Capt William & first Mate Johnny (Wanderer) and the Captain Alex with first mate Kevin (Harvester)."
"We fished mostly ballyhoo with circle hooks offshore and all crews knew how to fish. Almost every captain spoke English too… which really helps. My favorite was when we found some bonito and slow trolled them for the marlin, larger sailfish and inshore for cubera."
"Don't be fooled by the rainy season… it produces offshore as well. I do not hesitate in recommending this group for a great fishing trip."
"If you are looking to fish large sportfish boats with A/C…. this is not your trip. But if you want to catch the same quality and quantity of fish for 1/3 of the price… this is the trip. I can't wait to book my next trip!"
"PS – lunch was included for our trips and was fantastic. Cooked by the local ladies and in classic Costa Rica style. Water and fresh fruit included too… just bring the beer, the sunscreen and the gopro / cameras!!"
Paul Reynolds
July 29, 2016
Winter Park, FL


"Great day on the water. Dreams came true on our trip to Nosara."
"Thank you Captain William and mate Johnny for putting us on 7 beautiful sailfish and two tasty cubera snapper.
I can't wait to go back!"
Adrian Paredes
July 13, 2016
Brownsville, TX


"Fishing in Costa Rica is awesome! If you every get the chance…..GO!!!! We doubled up twice and tripled once.
Caught a total of 20 sailfish on 30 bites. It takes a pretty good captain to get 3 sailfish to the boat at the same time and released"
"The first triple for the Harvester. (landed and released all three fish).
We also had two doubles (2nd & 3rd for Harvester) and the 1st time getting the 2 fish pictured together.
Captain Alex and mate Kevin did an awesome job and I highly recommend them if you ever get to fish in Costa Rica." – Greg Tilley
"Alex and Kevin are the ticket! Great captain and mate combo! Keep up the good work!" – Todd Horton
Greg Tilley and Todd Horton
January 27, 2016
Chapel Hill, NC


Craig,
Just wanted to let you know that we returned from our trip yesterday and had a great time.
The staff were outstanding both on the boats and in the office.
We truly enjoyed our stay and look to return at some point in the future.  Possibly the fishing tournament in April.
Please let everyone one know that we really appreciated their hospitality.
Jon Branson
November 15, 2015
Friendswood, TX


"Today, with help from my Dad, I accomplished a fishing dream!"
"Together we caught a Billfish Grand Slam which means we caught three different species of Billfish in one day."
"We caught a 200lb Blue Marlin, a 100lb Striped Marlin, and two Pacific Sailfish at 130lbs and at 80lbs!"
"It's something to be proud of and always remembered and I couldn't think of a better person to share it with than my dad!"
"Well, the father/son billfish beatdown in Costa Rica has come to a close. We finished the week with 1 blue marlin, 2 striped marlin, and 11 sailfish. I'm back in Atlanta safe and sound, I guess it's time to go back to the real world."
Patrick Vincent
June 9, 2015
Acworth, GA

"After reading an article in Florida Sportsman a few months back, 3 of us booked a 5 day trip with Nosara Paradise Rentals. We flew into Liberia airport on May 28th and took the 2 1/2 hour drive to Nosara. It is a very remote resort with the last 20 miles being a slow drive due to gravel pot hole ridden roads. Each day we woke up at 6am to a full breakfast of eggs, bacon, cereal, yogurt an fruit. We came back to a clean house and washed/folded laundry."
"We did a 3 full day offshore trip on the Wanderer, a 31′ T-craft, with William and Alex. I couldn't be happier with the experience we had with those two. On day 1 they picked us up at 615am and drove us to the bay. We took a small craft out to the Wanderer where we headed out each day. We went out to the fishing grounds where they looked for schools of bait, dolphins feeding or floating debris."
"The first catch of the day was an 80 or so pound Sailfish that I hooked into. What a great way to start the day out. We came across a piece of debris and caught numerous small yellowfin tuna as bait. A little while later, BAM!! A Blue Marlin. After a good 45 minute fight we landed him."
"The rest of the day we caught numerous small YellowFin which made great boat side shashimi and dinner that night."
"On Day 2, we headed out at the usual time and headed out looking bait fish. Soon, we found a huge pod of dolphins and birds feeding. It was a sight worth seeing. So, we trolled live bait and ballyhoo and caught 3 30-40 pound yellowfins at the same time. A TRIPLE HOOKUP!"
"A little later we had a double hook up that resulted in the biggest tuna I've ever had on a line. About 10 minutes in it shook the hook. I was a little disappointed but, it was a big change from what we usually catch from kayaks here in S. FL. The rest of the day was spent catching small tuna which resulted in seared tuna and shashimi for dinner the next two nights."
"On the final day, we headed out and slammed a 100-120 pound spearfish. Which is one beautiful and colorful to see coming up from the water. We later found some dolphin feeding and spent a couple of hours catching eight 10-15 pound yellowfins."
"We started heading in for the day and Alex spotted a log floating that was covered in bait."
"They went out of their way to try to land us another Marlin. After we caught a few tuna, we rigged them up and trolled for Marlin. About 40 minutes in we hooked a 400 plus pound Blue Marlin. It was some of the most magnificent jumps I had seen in a while. After a brief 20 minute fight I landed the biggest fish yet."
"A perfect end to a amazing offshore trip. A big thanks to Alex and William for a memorable experience."
Andre Carbo
June 3, 2015
Oakland Park, FL

Craig,
Just wanted to let you guys know our trip to Nosara was wonderful.
On Sunday 8 Feb on the Discoverer we raised over 20 Sail Fish Caught 11 out of 15.
We had 3 on at once and landed all 3 it was fantastic!
Staying at Nosara Paradise rentals was also great. The complete staff was great!"
Can't wait to come back.
PURA VIDA!!!!!!!!!!
Kenny Ray
Eagle River, AK
February 8, 2015

Craig,
Can't wait to tell you all about the trip.  William and Alex will always be number one to us…..just way too much fun in a week!!  We finally captured the elusive rooster fish, the morning Andy was on his way to the airport….laughed about that!
Have some great underwater shots we took with the gopro too!  Total count for the week is 21 sails released (could have been more, but we targeted Marlin our last day with four teasers and one big lure…..no Marlin but no worries…….too much fun trying!)
The second day we fished and released 10 sails (once again, if we wanted more it would have been no problem, but we wanted to enjoy one fish at a time because Alexa and Crystian had never done it).  We did reel up a double with Andy and Minton because we could!  Best family vacation ever!
Becky Hogan
Mayport, FL
January 24, 2015

Craig,
Our group had a great fishing experience during the week of January 18, 2015.
Our group included an 84 year old, a  74 year old (me), two 66 year olds, a 63 year old and a 41 year old. (Feel free to advertise in the AARP magazine.) 
Our crew, Captain David and 1st Mate Juan-Carlos, was top notch. 
The Discoverer was a pristine vessel and the equipment was in excellent condition.
Our catch record included: 6 sails, 1 striped marlin (in the photo on the latest FishingNosara report – the angler was 84 year old Ed Malinowski) 2 blue marlin (1 hook up and one leader touch), 5 yellow fin tuna, many Mahi-Mahi and 1 Cubera snapper.
We had a leader touch on the snapper but Captain David said it doesn't count (we are still taking credit for it).
Until next year, Pura vida!
Robert Preston
Sun City Center, FL
January 18, 2015

Craig,
Great trip on the Discoverer yesterday. 
My two sons and I caught 3 sailfish (one was 100 lbs), and 5 large dorado. 
Captain David and Juan Carlos were the best.
Could not have asked for a better time. 
We will be back. 
Ray Anderson
Hinsdale, IN
December 31, 2014

Craig,
This was the third time fishing and staying in Nosara. Great time, every time.
Went on the Wanderer for 3 half days. First day 4 sails until we found a pod of dolphin with yellowfins mixed in.
Caught a 60 pounder while trolling and a smaller one on a popper. We only took 2 bags of tuna and had enough for 4 dinners.
Second trip was live baiting on the reef. Lost 2 snappers but caught 3 rooster fish.
Third trip off shore again. Caught several sail fish and a nice dorado for dinner.
Best part was that the crew, Alex and William, would let me hook the fish.
Usually the crew will catch and then handover the rod. Alex saw that I had some fishing experience and trusted my judgment which paid off.
Went with my wife and 15 year old daughter and we all had a blast. See you again next year!
Oh, did I mention how affordable all this is 🙂
Hendrik Engel
Fairhope, AL
December 22, 2014

Hi Craig,
We had a great day of fishing on Dec. 1, 2014 aboard the Wanderer with Captain William and First mate Alex.
Those guys are real pros and had us on fish most of the day.
Caught 4 Dorado and 6 Sailfish and we appreciated the concern Alex had for the well being of the Sailfish keeping them out of the water only long enough for the photos.
Thanks for a memorable day. We hope to return.
Larry Macinnis
St. Augustine, FL
December 1, 2014

Hi Craig,
This fishing trip was my first and it was amazing. 
Got surrounded by almost 500 dolphins at first and then they got us at the right spot to bring out a 450lbs. Blue marlin!
The team was really nice and the boat was perfect.
Amazing day out, thanks FishingNosara!
Sebastien Bire
Saint Bruno, QC
July 20, 2014

Hi Craig,
Sorry it has taken so long to get in touch with you, but since our return from Costa Rica, things around here have been a bit hectic.
I really want to say that all of us had a GREAT TIME staying in the house you provided, along with all of the amenities. The two days of fishing with Capt. William and Alex were excellent and will not soon be forgotten.
Landing the 400# Marlin was a dream come true and one of the more exciting things that I have done in my 72 years on this earth.
My sister was also "as pleased as punch" as were the rest of us when she landed the 30# Mahi-Mahi, which by the way provided all of us an excellent meal.

I will / have recommend(ed) you and your facilities, to anybody who wants to experience a truly great time fishing for the big ones.
Not only was the fishing great, but the horseback riding safari trip was a very memorable and enjoyable experience.
Edwardo was a great guide, and his family was a delight to meet. The house was beyond our expectations and the breakfast service was wonderful. You truly have some very good personnel working for you.
I am truly great full to you for having offered and then provided the best prize that I have ever won.
In fact, prior to winning the raffle at the Expo, I would always tell people "that if it wasn't for my bad luck, I wouldn't have any luck at all". I can no longer say that. I know my children, sister and niece all had one of the best times of their life, and are already talking of going back.
Again, a GREAT BIG THANK YOU, for a wonderful time had by all.
Willard (Will) Richards
Ft. Myers, FL
May 28, 2014

Craig,
Getting back to reality really sucks. After arriving back home and climbing into my bed at 2am, only to get up at 5am to get back to the grind made me appreciate my short trip to Nosara even more.
We all had a great time and I have to say you truly run a First Class operation!
From arrival to departure, all was seamless; shuttle service, office staff, house crew, and of course the top notch crew of the Discoverer.
I have to tip my hat to Captain David and Mate Kevin.
I have fished on many boats all over and would certainly put them up against anyone. I was particularly impressed as well with Kevin, it's no easy task working the deck on a sport fishing boat and he handled it with the expertise of someone twice his age..
Great personable guys who work hard to make your customers happy; catching fish was just a bonus.
I want to thank you again for everything and I hope to be back soon for some more of Jenny's Mahi Cerviche.
Pura Vida!
Chris McLaughlin
Yonkers, NY
May 24, 2014


Dear Craig and Matty,
Curtis and I had a "once in a lifetime" trip to your place in Nosara! The fishing trips were fabulous with Capt. David & Kevin on the barroom brawler Explorer (10 sails total for Chuck) and Capt. Carlos on the "pocket knife" Adventurer. 
I caught 3 sails on the Explorer and five bonitas and one tuna on the Adventurer.
What a special treat to see the beautiful reefs jut out of the Blue Pacific (which I had never seen before).
We also took a horseback ride with Rafael and had lunch with Jesus, his Mama.  She prepared a delicious native lunch, and it was a pleasure meeting them both.
Also, Cumi, Marino, Javier and Ahias took great care of us!  I would be remiss without saying how much we adored Freddie and Jenny, too.  Freddie hauled us to and from the boats to Garza, Jenny did our laundry and cleaned up Casa Jardin during the week, and Jenny had fried chicken as a treat on one of our fishing trips. 
Everyone was very amenable to answering any questions we had.  We put several miles on the Safari Cart, and our transfers to and from the San Jose airport were impeccable.  One big happy family.
It was an amazing adventure which we will always cherish.  You run a top-notch operation, and we will recommend Paradise Rentals & Fishing Nosara to anyone who is headed to Costa Rica.  Best wishes in your future endeavors and your new boat, the Discoverer.  Thanks again for everything!!"
Liz and Curtis "Chuck" Coley
Jacksonville, Florida
April 18, 2014

Hello Craig,
I just wanted to send you an email and thank you for the top notch charter.
David and his deckhand [Kevin] on the Explorer were great.
They are very focused, knowledgeable, and easy going.
The boat was absolutely spotless!
They obviously take great pride in what they do and represent FishingNosara very well.
The fishing was great as well.
We landed 5 sailfish (1 at the leader and 4 at the boat) in a spectacular day of fishing.
Thanks again,
Joe and Nancy Rodriguez
Tampa, FL
March 3, 2014

Good morning Craig!
Before 2013 disappears completely over the horizon, I just wanted to drop you a note and say thank you to you and your crew in Nosara. You have a first class, professional,operation in Costa Rica and as you know from the photographs/blog we had an amazing trip.
Both Captains and Mates are to be congratulated. For my son, his 21st birthday will never be forgotten
Best wishes for a healthy, happy and prosperous 2014!
Roger Bowgen
Greenwich, CT
January 8, 2014

Craig,
SIX Pacific Sail Fish on the Explorer with Capt David and First Mate Kevin in one day, followed by TWO Pacific Blue Marlin releases with Capt William and First Mate Alex the next day out!!! OUTSTANDING!!! We WILL BE BACK!! Amazing fishery, amazing people!! William, Alex, David and Kevin were professional in every way. See y'all again soon!!!
Laura McLean Phillips: "The crew of the Wanderer is AMAZING! These guys know how to make some memories."
Things I learned in Costa Rica
Catching Bonita on light tackle is FUN!!!!
Catching Mahi is A LOT of FUN!!
Catching Pacific Sailfish on Catfish gear is GREAT Fun!!!
Catching 400# Pacific Blue Marlin on 30# test after fighting it for 1 1/2 hours is BRUTAL!! MUCHO respect for the Blue Marlin…Now where did I put that IcyHot…..
-Jason Kintner
Charlie Phillips: Today was an epic end to a fantasy week for me. I battled the most noble of the billfish, the majestic Blue Marlin, and was rewarded with a photo, the hook removed and in my pocket then a successful release. One of the best days I have ever experienced on the water. And better yet we ended up two!
Charlie Phillips: "This was by far the most enjoyable vacation that myself or anyone in my group has ever experienced. Your staff is wonderful and took care of us as though we were family the entire time, something that is greatly appreciated. And your captains and crews are true masters of their craft. As a working captain myself, it is a true joy watching them work to make our trips a great success."
Captain Charlie Phillips
Everglades, Florida
August 1, 2013

Hi Craig,
I enjoyed the Wanderer 4 days and and only switched from David on the Explorer the last day (after they slammed the yellowfin I may add) to chase that Marlin dream.
I saw her, I hooked her, I fought her, she jumped a lot, Alex the mate and I landed her, then I jumped up and down like a 12 year old!!!!!
"I did it, I won, 400 lb Blue Marlin. Now a bottle of Advil and an Imperial!
"Thanks to Alex for all the coaching and talk of techniques and information of the entire fishery. We enjoyed our entire visit. Well done NPR!"
Dave Wenzel
Jacksonville, FL
July 10, 2014

Hey Craig,
Just a quick note to say thanks to you and everyone at Fishing Nosara and Nosara Paradise Rentals. We all had a wonderful time.
The people there are the best. You, my friend, run a great operation.
Everything was done just as planned. The people on the ground are so friendly and we never had to worry about a thing.
Even the final transport from Arenal to San Jose was like clockwork and the driver was great.
You can't mess with Mother Nature. The fishing was pretty slow to start as the weather didn't cooperate much for the first and third day of fishing.
Of course, the last day of fishing was beyond my wildest expectations! I was hoping for a sail but didn't really expect an opportunity for marlin.
The marlin has always been one of those "must" experiences for me.

Not only did I get to experience it, my family did too! No photo or video can come close to the experience of seeing and feeling the power and majesty of that fish.
I look forward to recommending Nosara to everyone I know.
We all can't wait to come back.
From Vicki, Elizabeth, Chuck IV and me, Pura Vida!
Yours truly,
Chuck Elzer
Bradenton, Florida
July 1, 2013

Hi Matty,
We had a great time fishing!

William and Alex were so good at their jobs. They keep the boat and their equipment tip-top.
Your staff was so helpful and willing to answer all our questions.
We really enjoyed Freddie who drove us to the airport and to the boat.
Tell Craig when he gets the new boat finished, William should get it. He is an outstanding Captain.
Thanks for the great trip.
Janet Storey
Moorehaven, Florida
May 30, 2013

Hey Craig,
Just wanted to say thanks!
I had a great time in Nosara and catching a Sailfish on my birthday was the icing on the cake!
You have a great staff working for you, hats off to all of them!
Carlos did an awesome job of putting me on the fish.

Mark Applegate
Forked River, New Jersey
April 19, 2013

Hello Craig,
Just wanted to thank you and all you're staff for an outstanding vacation.This was our first time to Costa Rica, and we did not know what to expect.
Everything was beyond expectations. From the moment we were picked up at airport by Freddy until we landed back home, everything was top notch.
Captain David and mate Carlos worked tirelessly to make sure our fishing trips were a success, putting us on sailfish, tuna, and numerous bottom fish. We were also lucky to catch a giant grouper.
Back at the house, Javier, Alejandro, Marino, Jenny, and the rest of your staff couldn't do enough for us. They all made us feel right at home. Looking forward to hopefully going back next year and staying longer than a week and fishing for more than four days.
Thank everyone again for me.
John Rozas and Liz Pease
Staten Island, New York
March 29, 2013

Hi Craig,
Hello Matty and Craig,
I want to apologize as this email is long overdue. We rented Casa Privada on December 19, 2012 to January 5, 2013 and I wanted to say thank you very much for the awesome experience.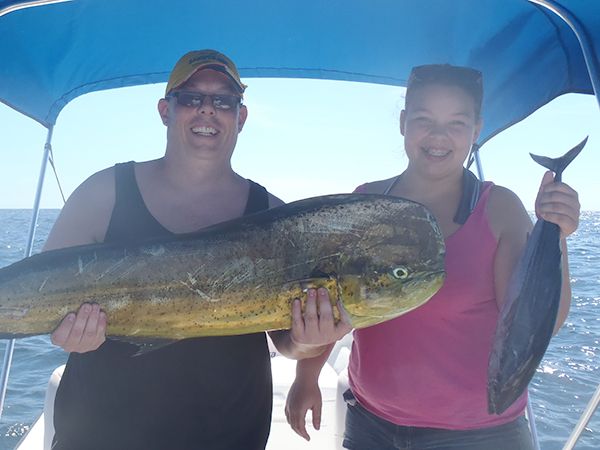 It is by far the best vacation that my family and I have ever had and we can't wait to do it again.
There are too many experiences to pick a favourite but definitely the Horseback Riding and Fishing are top two.
The experience was made even better by the treatment received from Javier and his team and especially Eduardo who we have come to view as a family member.
Our nights were not complete unless we got a chance to see Eduardo walking the grounds to make sure all was under control.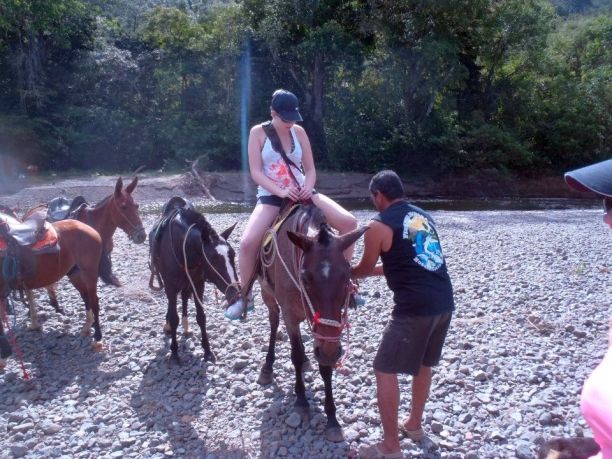 We are planning to come back December 2014 for Christmas and New Years again and will be booking with you early 2014.
We can't wait to get back as this is our number one destination for vacations in the future.
Again thank you so much for the great memories and experiences.
Pura Vida
Greg Watson
Guelth, Ontario, Canada
March 28, 2013

Craig,
Just dropping you a note about our trip. As we spoke on the phone, our trip was awesome and all of the staff could not have done a better job to make our stay more complete!
From breakfast to fishing to relaxing on the patio, it was all perfect! Thanks to you and your staff all four of us had a great time.
On my layover in Houston, a boy probably about ten or twelve asked me about my FISHING NOSARA hat.
I told him of our fishing trip and his father was very interested and looked your website up on his smartphone immediately. He can't wait to contact you about a trip.
Thanks again and I will be contacting you for a trip for my sons and I soon.
Randy Smith
Council Bluffs, IA
March 22, 2013

Hi Craig,
In the office Arturo and Alejandro were fantastic.  They were great about me bugging them to use the phone and all the other requests and inquiries that I made.  Having a concierge service with a weekly rental is a brilliant concept.  I rented a bicycle, bought t-shirts, got advice, received messages and booked an excursion.
Next, Greven has a great personality and I talked to him often at the pool house or on the grounds (which were immaculate even when the 60 mph gusts of offshores winds blew). I used the pool after surf to relax and also at night with the Wi-Fi listening to the frogs, birds and lizards.
Jenny helped me with the microwave, turned the Corvina Javier caught into Ceviche for me and also washed my whites.  She was great.
I then spent some time with Eduardo the security guard since he had to make it through every night without sleeping. 
I get my best spanish lessons from Security Guards but with Eduardo I also learned about Nosara and Guanacaste and Costa Rica and about living there for an entire lifetime.
Finally, Javier was a class act.  He has the whole place running like clockwork and even when you were full, it still seemed like I was in my own personal biological reserve with AC and a pool.  I went fishing at the rivermouth with Javier and that was a treat.
In the surf, he got two Corvinas and a big Jack (see picture).  He let me keep the Corvina as I mentioned and it was so good for two days with crackers and hot sauce and tomato sauce.
Thanks so much for everything.  I hope to return with my son.  He has got to experience it.
Take Care,
James Lashley
Oakton, VA
February 17, 2013

Craig, Matt, and Arturo,

Again thank you for an awesome trip. Everything was done beyond what I had expected.
A friendly arrival, excellent advice, outstanding fishing and complete satisfaction from start to finish.
I have already told my friends of your outstanding operation. Thanks again for the trip of a lifetime.  Cannot wait to go again.
John Danner
Tampa, FL
February 12, 2013


Absolutely full of action – a total of 6 sailfish caught and released including two double hook ups!!! Huge adrenaline rush.
Carlos (deck hand) and Captain David were brilliant and professional in the execution of boat work, gear rigging and handling of the fish during the capture and release. GREAT JOB….
During the past 2 years I have charter fished on the Great Barrier Reef, other parts of Australia, Kingfish at Tairua East Coast of New Zealand, Yellowfin Tuna at Key West Florida, and on this vacation Salmon at Quadra Island, British Columbia before coming to Nosara and can I assure you the operation here is First Class!
Ross Boyce
Manly, Brisbane Australia
August 30, 2012

Craig & Matt,
I know it's been a little over a month but I wanted to tell you what a great time we had in Nosara back in April.
What started out as a small trip for my wife and I for our ten year anniversary turned out to be a fantastic vacation for my parents, my brother, our daughter, and my wife & I.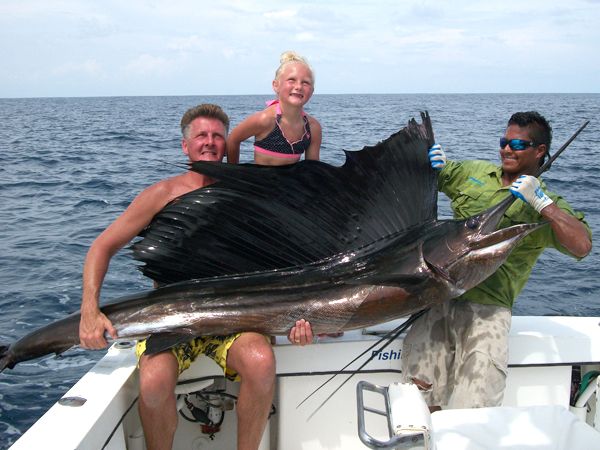 My brother loves to fish so he was a no-brainer…the only thing that would have made him happier would have been to go fishing Sunday and Wednesday as well. My parents on the other hand are pushing "80" and slow moving not to mention their fears of going out of the country…this was a totally new experience for them.
My father, my brother, and I are all in the Hotel and Food Service Industry and we all found the entire staff to be extremely hospitable. We were greeted well at the airport and given the opportunity to purchase some food items on the way.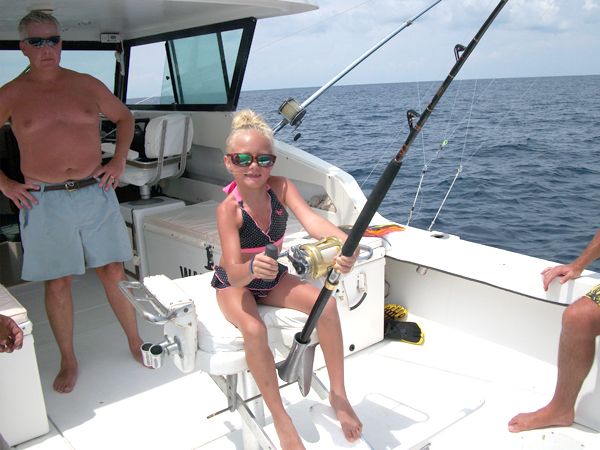 We were welcomed at the office upon arrival where the staff got us registered, situated in our "house", and made sure we had everything we needed. Once we were settled-in, we scheduled our fishing and transportation time(s) for the week.
Every morning just a few minutes before it was time to leave for the boat, our transportation was ready to go. In the afternoon when the boat returned, our transportation was waiting for us like "clock-work" and every night someone stopped-by our unit to ask how our day was and to see if we needed anything…fantastic!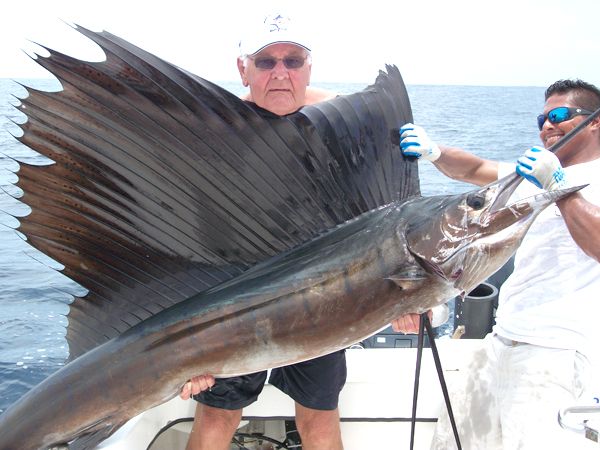 William and Alex could not have been better…everyday they asked what we wanted to catch and that's what they set-out to do. We had four GREAT days of fishing…11 Sail and 1 Dorado! Alex cleaned the Dorado immediately and that fed us Tuesday, Wednesday, and Thursday. The two of them knew we wanted to bring-in a Marlin and they definitely tried their best.
We were able to sit on the bow, watch from above, and go for a swim…they literally made us feal as though this was "our boat".  As I mentioned earlier, my parents are pushing 80 and slow moving… William and Alex were very patient and helpful getting my parents in and out of the boat…These guys are "top-notch"!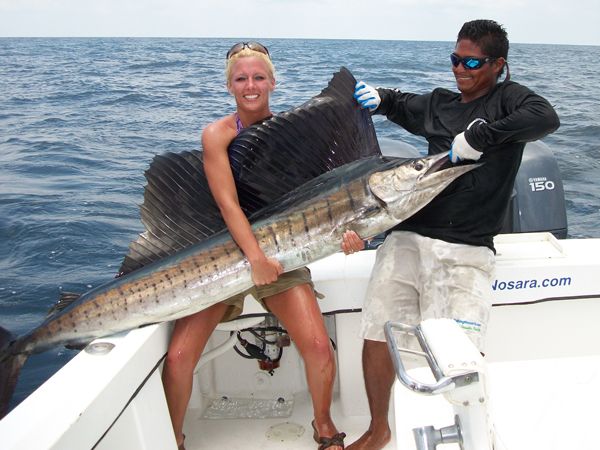 The week was awesome from start to finish and will go down as one of our best vacations ever. We were all together this past Monday for the Holiday and it seems like that's all we talked about. It sounds as though we might be going to Costa Rica again next year!
I cannot thank you both enough and hopefully we'll be talking again soon!
Sincerely,
John VenHousen
Lake Geneva, WI
May 30, 2012

Hi Craig!!!!!
We are back in New Jersey although none of us wanted to come back home. My mind is still in Nosara.
I can't tell you how much we love everything in there… the fishing, the kayaks, the horseback riding, the canopy.
We needed more days to do more activities, some we did it twice.
Casa Caribe was perfect, so was the food, the beach, the sunsets, the animals, the trees, but mostly the people on your staff: Javier, Manuel, Eduardo, Cumy and the rest.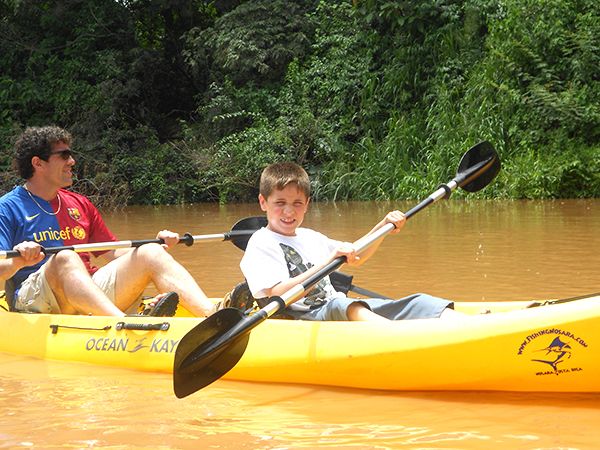 For my family and I this was the best vacation ever. We are planning our next time already.
Thanks for the most adventurous and unforgivable trip in our lifetime.
Love and Pura Vida,
Vivi Baez
North Bergen, NJ
July 5, 2012

Hi Craig,
I wanted to follow-up and let you know how pleased I was using your service. You have a terrific operation there with a great staff both in the office and on the boats. Catching the 250 lbs. Black Marlin on stand-up tackle was awesome and a thrill. I also enjoyed the inshore, top-water fishing as well. The boats, tackle and crew were all up to expectations.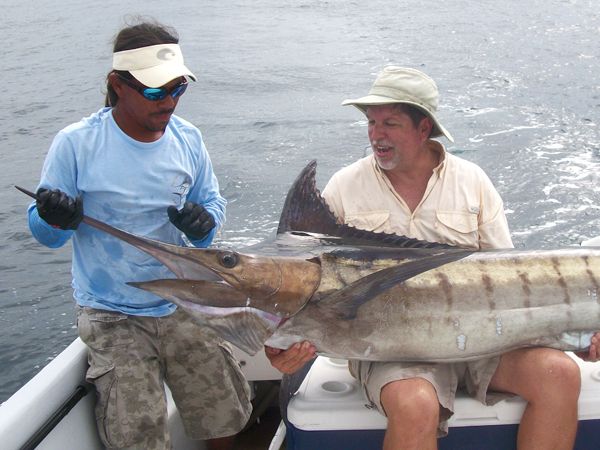 Being able to rent kayaks, bikes and a golf cart was super convenient and added to the enjoyment of our trip. The Rio Nosara was a great river to kayak on.
Thank you for the effort by you and your staff. We plan on going back in June so we will catch back up then and book some more fishing trips. Take care.
Mark Shaw
Ponte Vedra Beach, FL
December 24, 2011

Hey Craig,
I just wanted to say what a nice operation you have here. Very professional. Your staff is friendly and accommodating.
Good job with the buildings and landscaping, too. High ceilings in Tranquillo are a huge plus.
Swell has dropped so perfect for my daughter. Now she wants to short board. She may have to repeat pre-algebra but if she has a life long passion for surfing it will be worth it. Dig the WiFi and phone use. Great walk to yoga as promised. Etc….etc….etc… Right on! Gracias.
Pura Vida!
Sophia and Haley Johnson
Santa Cruz, CA
January 25, 2012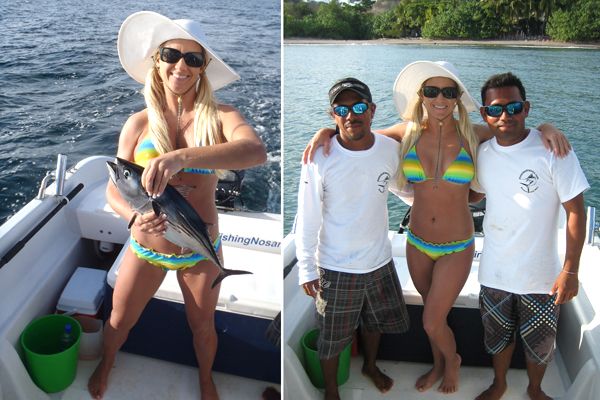 Matt, we made it back to the airport in Liberia and are just talking about what an awesome time we had in Nosara!
The fishing was so fun, and Nosara is a great little place!!
We are already talking about when we can come back!
I just wanted to thank you again for answering my millions of questions and helping me prepare!! Thanks again for your help…can't wait to come back again!!! Pura Vida!!! 🙂
Janae Nuspl
Jacksonville, FL
January 25, 2012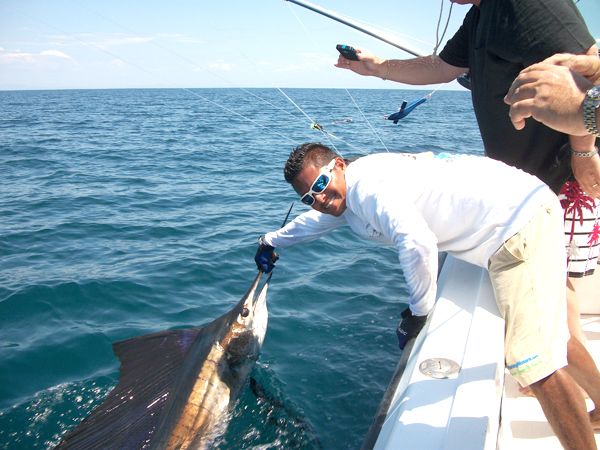 We had a blast! Captain William rocks and First Mate Alex is a one of a kind. He breathes billfish and is a real pro at handling the cockpit. We are very happy we booked this trip.
Last Thursday we fished with Captain David and Mate Carlos and were equally impressed with catches of grouper and congrio. Enough to feed us all for the week and still gave away fish to the locals.
If you are down this way give these guys a shout; they are great and the area is a wonderful place to visit
Thompson Rains
San Mateo, FL
February 21, 2012

Craig,
I just wanted to let you know that we had an awesome time at Casa Surfeando!
Thank you so much for the flowers, chocolate and champagne…felt like the honeymoon all over again 🙂
Also, wanted to let you know that we met a lot of the neighbors, and they all loved their stays, too. Manuel and Javier were awesome.
Thanks again!
Ronnie Soud
Atlantic Beach, FL
January 30, 2012

Dear Craig,
I just wanted to tell you what a fantastic time my friends and I had at Nosara Paradise Rentals. Everything was perfect and your staff is wonderful, so courteous and helpful.
I will return for sure and in the meantime, keep referring people to your beautiful spot.
Pura vida and thanks for everything!
Lorel Nazzaro
Brunswick, ME
Feb 4, 2012

Good Morning,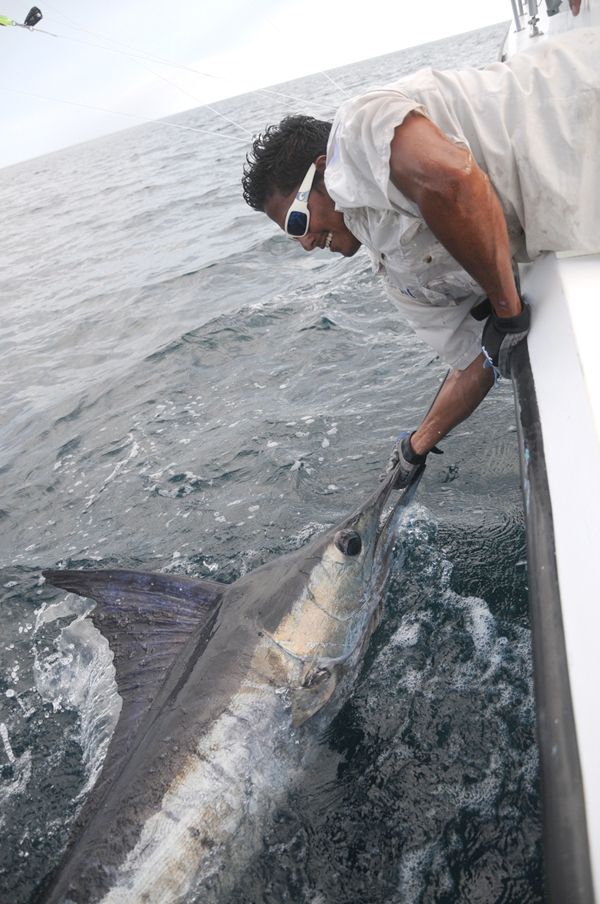 We arrived back home last night and wanted to let you know we enjoyed our fishing time with William and Alex.
They are both very professional and know what they are doing.
As you probably already know our first day was a good one with 3 Sails, 1 Striped Marlin and 2 Dorado.
The Sails were a double header which made it very exciting.
Your crew shows a lot of concern for the fish and we appreciated their efforts to make sure the fish swimming freely before the let them go.
Thanks again for a very good fishing trip,
Derrill McCrary
St. Petersburg, FL
February 3, 2012

Hi Craig,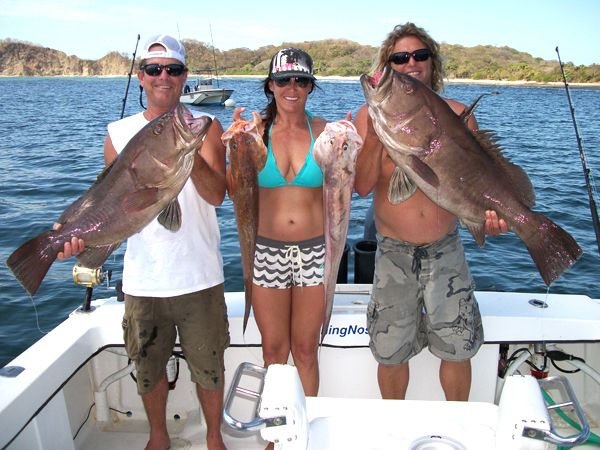 Just wanted to say thank you for all that you and the staff at Nosara Paradise Rentals did to make our vacation a memorable one.
We had an awesome time fishing and surfing. Your place is amazing and so peaceful.
Anyhow just wanted to let you know we appreciated all that was done for us. Take care!
Nora Nolan and Scotty Hollingsworth
Oceano, CA
February 17, 2012

Hi Craig,
Hope you are well. We just wanted to let you know we had an incredible time at Casa Neptune! It was absolutely perfect for our family. And, of course, we can't say enough about the friendly and helpful staff!
Heather MacDonald
Aspen, CO
March 20, 2012

Hola!
We just wanted to let you know we had a wonderful vacation at Paradise Rentals.
Everything was perfect and we will be sure to return someday.
Thanks to all the amazing staff that made our vacation a very memorable one.
Pura vida!
Lexie White
Petersbourough, ON
April 3, 2012

Hi Craig,

Can't thank you enough for our stay. Nosara Paradise Rentals exceeded my expectations, which doesn't happen often.
Your staff rocks, and we're really looking forward to our return.
I'm hoping to firm up our plans quickly so we can put the lock on Casa Jardin. I really loved that house.
Cheers,
Deb Barracato
Driggs, ID
April 16. 2012

We just got back from our trip in Costa Rica. We really enjoyed all the activities, esp. fishing, the thing that I regret was doing the fishing half day., we should have do the all day off shore and inshore…..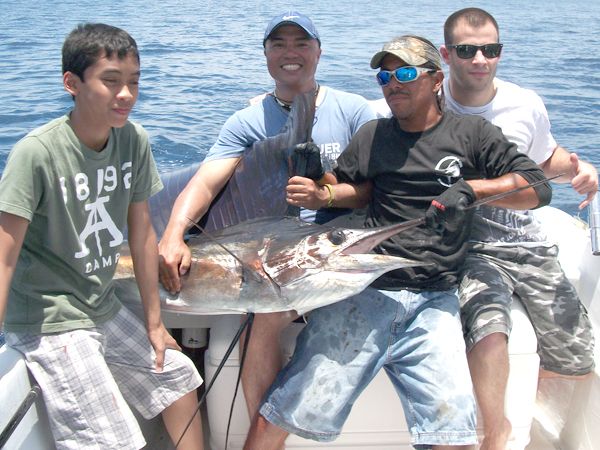 Thanks to Captain David, Carlos, Manuel (in the office).
When we returned to New Jersey I asked my wife 'can we book now to Costa Rica again?'… thats how fun it is, and the fishing expedition was the cream, so THANKS AGAIN GUYS.
I can't wait to go fishing again with the Explorer (next time is all day), with Capt. David and Carlos…surely will recommend to friends if they go to Costa.
William Ascura
Bergensfield, NJ
April 19, 2012

Craig,
I just wanted to thank you for all you did by donating a trip to Costa Rica for the Full of Bull Redfish Tournament 1st place prize. We just got back Monday night after 7 awesome nights in Nosara. I must admit I was bit nervous at first, but with the help of my friends who came along (their 8th trip to Costa) everything worked out great.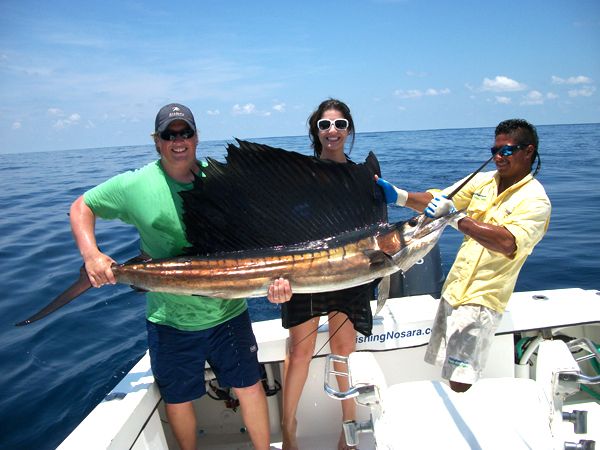 Your staff down there is amazing; Arturo is by far the most friendly and caring person I've ever met. Manual, Javier, Eduardo, the cleaning staff, and William and Alex on the Wanderer were superb too!
We ended up going 2 for 10 on sails, my first ever landed, the other was pushing 100lbs! I will absolutely do all that I can to spread the word on fishing the tournament next year and recommending Nosara Paradise Rentals to anyone planning a trip to Costa Rica.
Thanks again and it's incredible that all of that happened because of a $50.00 redfish tournament.
Sincerely,
Tyler and Emily Patterson
Jacksonville, FL
April 21, 2012

I just got back end of April. Craig and his crew are just awesome from the time you get there to the time you leave. The place is pure paradise. I will take my family back for sure.
Marty Wiggins
Jacksonville, FL
May 3, 2012

Four of us came to Nosara to surf and had the best time ever. The booking with Craig from Nosara Paradise Rentals was super easy and simple.
Craig was an excellent resource when we were there and always checked to see if we needed anything.
We stayed in Casa Tranquilo the Surfeando units. The places were simple, clean and had everything we needed.
We were right next to the pool and that was a bonus as well. I will certainly come back and stay again in Craig's places and would recommend them to anyone. Nosara is a great place!
Bryan Grace
Boulder, CO
March 3, 2012