It's been a tough few weeks for everyone, and our family in Nosara is no different. Though our area has been blessed with zero cases of Covid-19, paradise has not been spared the economic uncertainty that has gripped most of the world.
This is not what Playa Guiones is supposed to look like in the middle of high season in the middle of the day
The decision was made early on to maintain payroll and to keep our staff motivated to deliver great vacations to our guests, who we miss very much.
There are a variety of projects underway, and we think that everyone will be really excited about how we are spending our time:
The biggest project is the construction of our new house: Casa Bianca.
Casa Bianca is a two story quadra-plex in our nature preserve, next to Casa Jardin and Casa Surfeando.
This house is named for the longtime pet, friend, and mascot of Nosara Paradise Rentals. She joined our family the day we first purchased Casa Privada, and for 10 years comforted our guests, protected the houses from pests, and roamed the nature preserve as the Queen of the Jungle.
Casa Bianca is intended to satisfy couples or individuals who need more space than a standard studio and less space than a two bedroom house. It is also intended for students of the adjacent Nosara Spanish Institute and Nosara Yoga Institute.
We were planning to start building in August, but Javier has rallied the troops and began building the foundation in mid-April.
Ideally we will have this house complete before Thanksgiving.
The FishingNosara team has already run over 400 fishing trips since November. The boats are in the garage so that the Captains and crew can maintain the motors, equipment, and tackle.
These guys are ready to roll in May when fishing resumes.
At Nosara Paradise Rentals we have been addressing parts of the operation that are unseen by most.
This last off-season we were focused on renovating the kitchens and bathrooms inside the houses, which meant that other usual maintenance items got pushed back.
We are taking this opportunity to repaint the tin roofs on Casa Tranquilo and Casa Jardin.
The constant equatorial sunshine and heavy seasonal rains really do a number on exposed wood; so we sent our bravest guys up the ladder with sanders to do the difficult work of stripping the old varnish off of the fascias of Casa Bonita and Casa Privada.
We've heard of social distancing, but this is a little extreme:
Most of you probably don't realize it, but each house has a small bodega (accessible from the outside) that we for storage. Between maintaining 14 houses, 40 safari carts, and 5 boats worth of fishing tackle we have enough gear to fill a warehouse.
Obviously in the hustle and bustle of high season things can get disorganized, and this sudden surplus of time has enabled the staff to get thing organized and cleaned.
To summarize, we are psyched up to get back to the business of delivering dream vacations. Our hope is to be reopened for tourism on May 1.
Now is the time to re-book your trip for the coming months. June, July, and August are our best months for fishing, and the town of Playa Guiones will be back to business as usual.
Here are the current details from major airlines:
Alaska Airlines: Open for travel on May 3.
American Airlines: Open for travel on May 6.
Delta Air Lines: Open for travel on May 2
JetBlue Airways: Open for travel on May 1.
Southwest Airlines: Open for travel on June 5.
United Airlines: Open for travel on May 3.
If it is not possible for you to travel, then we will continue to honor the deposits you have paid for use on a future visit in 2020.
We are standing by to help with questions. With God's strength we will make it through this time and be stronger for it.
NEW FOR 2020: Family Style "Heat and Eat" Meals
Prepared fresh daily by Maria and the Nosara Paradise Rentals Culinary Staff. All foods are locally sourced, 100% Organic, Pesticide-free, and Hormone-free. Order in the CR office, and the entire meal will be in your refrigerator at 4pm with heating instructions.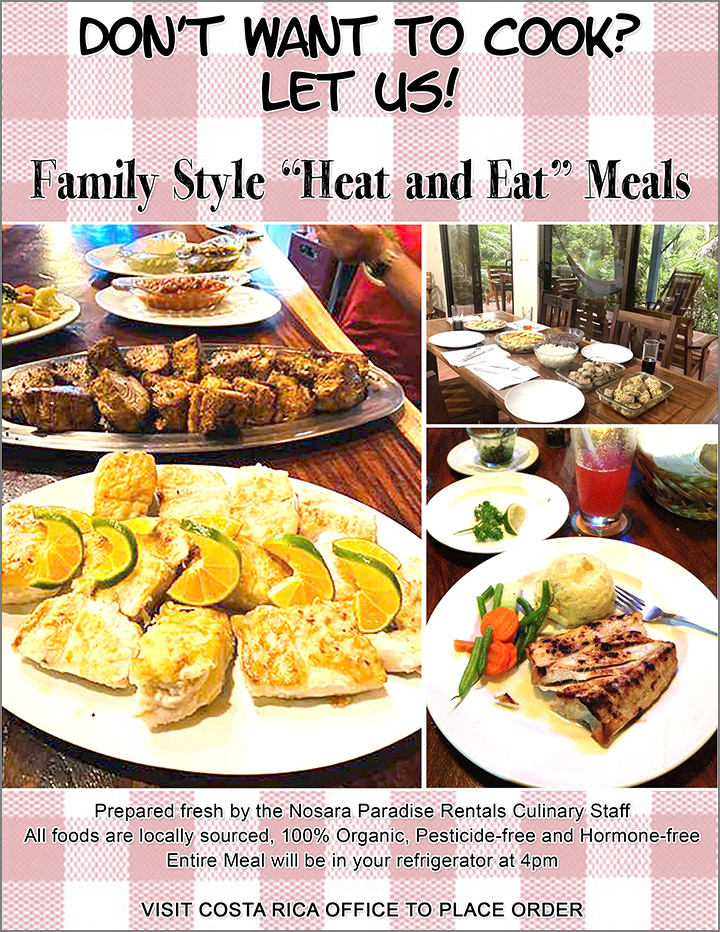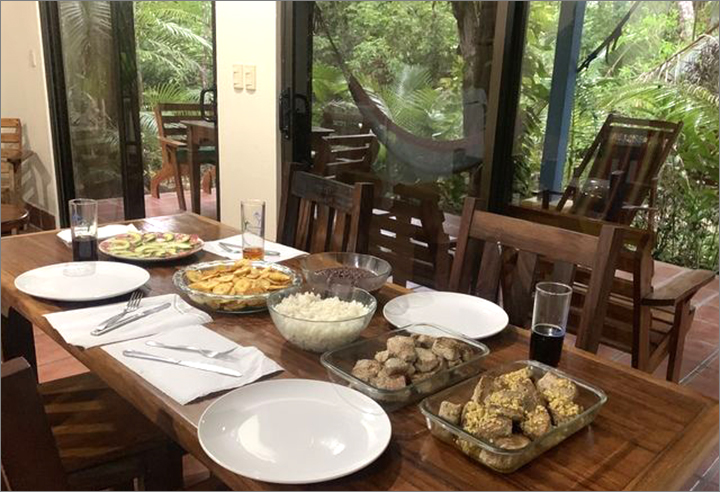 Meal choices:
Chicken (Pollo Tipico): The Tico staple. Free range chicken with classic filling side dishes. Includes Rice and Beans, Salad or Veggies, and Sweet Plantains (Dessert)
Pork (Cerda Dulce): Sweet premium cuts that melt in your mouth. Includes Rice and Beans, Salad or Veggies, and Sweet Plantains (Dessert)
Fish (Pez Tres Veces): Your fresh catch prepared three ways: Blackend, Fried, and Sauteed. Guest-provides filets; must deliver filets no later than Noon on day of meal. Includes Rice and Beans, Salad or Veggies, and Sweet Plantains (Dessert)