On August 15th Craig enjoyed his last day in Costa on the Wanderer along with good friends Andrew (from Playa Garza), Andrew (from Playa Jacksonville), and the Georgia peach Paula. It was a relaxing trip without the hustle and bustle of the TV crew, but Craig still found time to catch a 150lbs. Striped Marlin.
With a meter-long razor-sharp spear and a top speed over 60 knots, these fish are known for their aggressive fighting tactics and bulldog strength. This particular Marlin had the attitude of a bareknuckle street-fighter, but Craig stayed vigilant on the reel and Alex was right there to safely bill and release this massive marine monster.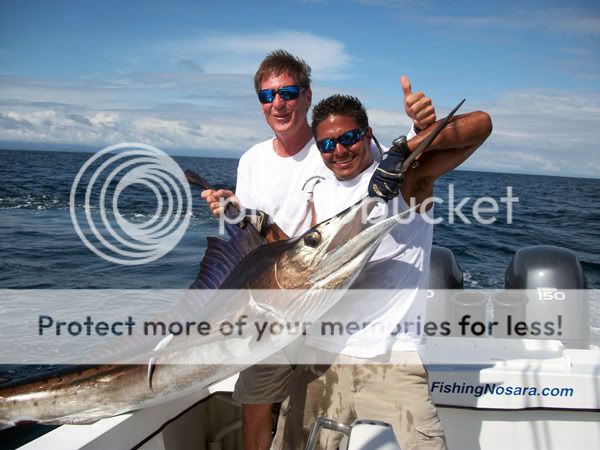 Of course the greatest victory for FishingNosara crews is the safe release of all billfish. As with dozens of other Marlins and Sailfish caught by the Wanderer this season, this brutal behemoth was safely released back into the blue water.
Captain William and the boys are feeling on top of the world these days. The fish are biting, the clients are smiling, and the schedule is filling up fast.
It's hard to believe that it has been a year already since completing the Wanderer. This boat represent a classic story of a few dudes getting themselves WAAAAYYYY in over their heads, but persevering to succeed beyond even their own imaginations.