Shortly after the glow of finding our new project hull wore off, we had to address some very tangible obstacles. First off, we had nowhere to store this boat and even if we did, we did not have access to a boat trailer capable of hauling it.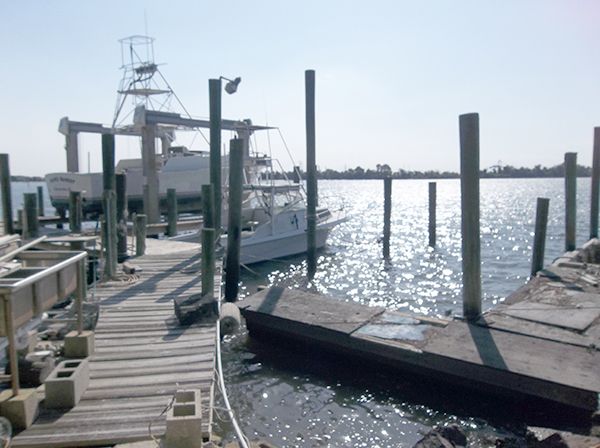 Even if we could haul it, the flying bridge on this boat when fully deployed brings the overall height 26 feet. We plan on modifying the tower to fold down into the cockpit so we can trailer this boat through the narrow winding road around Garza, but as she sits today the top is permanently erect.
Here's what we can surmise about the Slick Cricket as she was purchased. This is a 1982 T-Craft 30 foot hull with a Cummins B Series Diesel inboard powerplant backed by a TwinDisc Transmission; this vessel was formerly flagged as the Miss Jessi until 1994 when this high-end motor/trans combo was installed.
It's clear that the former owner sunk all his time and money into the motor and then ran out of both because the rest of the boat shows signs of sloppiness and shortcuts. The rod holders, rubrail, and other through hole fittings are secured with wood screws rather than through-bolts. Virtually none of these important fittings have 5200 sealant in place making this hull a potential sponge of water intrusion.
Also all of the marine fabric throughout the boat is mildewed and rotted so there will be significant sewing needs. Lastly there is a ton of layout changes in store from the rod holders to the fuel fillers…everything must go!
Basically this boat feels 'slapped together' and presents a different challenge from our last boat build. The Wanderer was a tight drum of a vessel when we began tearing her to pieces; the Discoverer must restored to a level of strength and quality that she has never known. I must say it is exciting and daunting to breathe life into a hull that has had such a rough existance so far.
This seems like a good time to discuss the most chronic obstacle we will be facing on this build: We have virtually no money for this project.
The revenue generated by FishingNosara and Nosara Paradise Rentals barely covers the overhead, maintenance, staff and expenses inherit in running a resort in Costa Rica.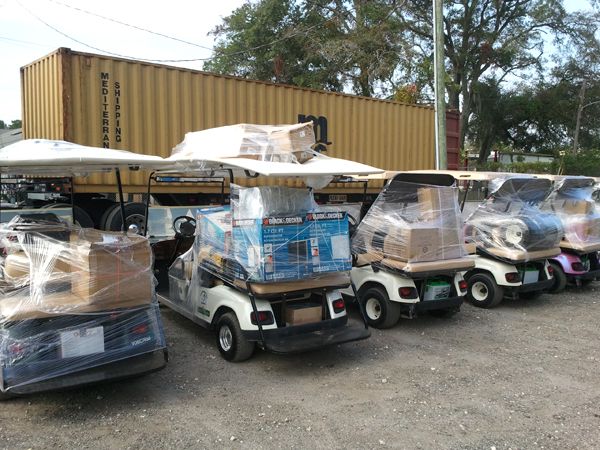 The reason we are building another boat is not that we have $100,000 burning a hole in our pockets, but because there were too many times this last season where we had to turn away clients because the Wanderer was already booked. Though we predict that the Discoverer will likewise be successful it will not begin generating money until she is in the water.
Like most of you readers, the last few years have been tough financially and the last thing we want to do is go into debt or put any of this boat build on credit.
Why am I telling you this? Well, if you want to see the perfect way to do boat work in a perfect shop with an unlimited budget then you may want to look elsewhere.
The FishingNosara Build Team consists of car mechanics, handymen, IT professionals, and other oddball characters and we build our boats with hand tools and guts. We've built world-class vessels in a patch of dirt in the rainforest, in an empty warehouse, and this time we're doing it in the backyard.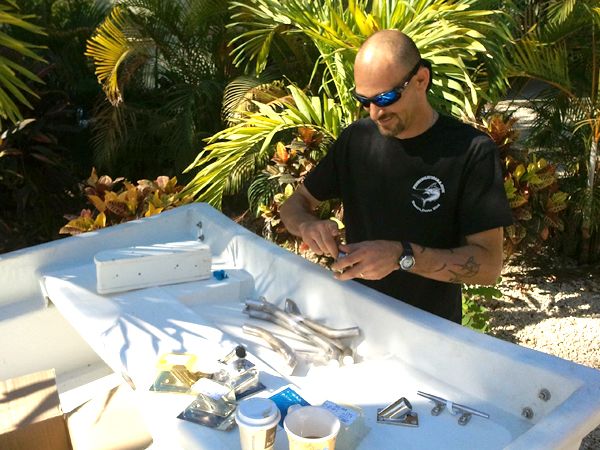 Naturally you can take away lots of boat building knowledge from this project and hopefully it helps you on your own boat build. However it is our hope that all marine enthusiasts can draw inspiration from our commitment to hard work and creativity in overcoming obstacles rather than just throwing money at them.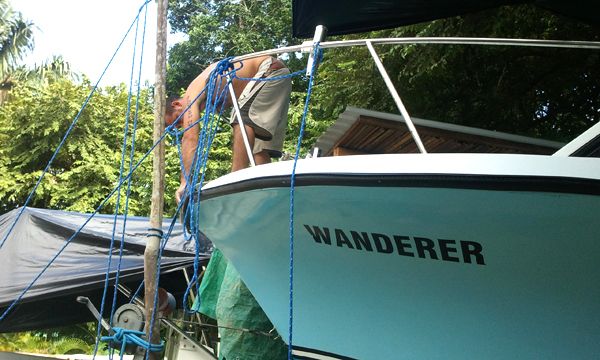 In that spirit our good friend Marcus over at Ft. George Island Marina came through for us huge. He offered us a slip for the boat in his warehouse, use of their megacrane, and space in the yard to knock out the first phase of the project. All he asked in return was that we tear out all the moldy fabric before we make a mess of his facility.
After four sleepless nights of knowing our boat was sitting unprotected at a rickety wooden dock, Craig fired up the diesel and took her up river to the newly-built Ft. George Island Marina. Marcus tucked her into her slip and we all slept a little better that night.
The Discoverer was safe and sound, and we begin to search for a boat trailer and a permanent home for our new prize.