John Fitzgerald from Connecticut caught the first Striped Marlin of the season today on the 26-foot fish-fightin' Explorer. This rarest of all Marlin species weighed and estimated 200lbs. and was released alive and unstressed as always.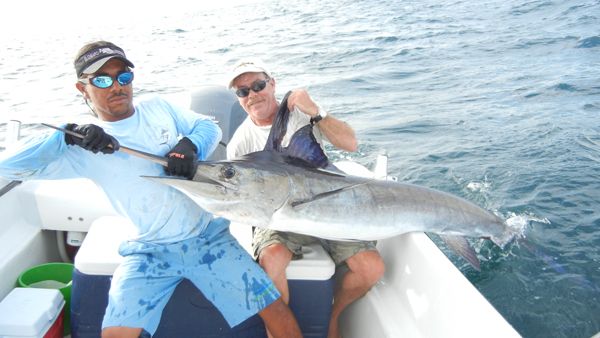 Excellent work by First Mate Carlos on the safe handling of this majestic fish.
It's amazing how fast the fishing can turn down here…just yesterday Captain William of the Wanderer filed this unfortunate report: "Well, really slow today. We only had a sail on the teaser, but nothing. It's too windy offshore and the water is green." Now, Captain William can catch fish in a crock pot so if he says they ain't bitin' trust me they ain't bitin'
Just a day later and Mr. Fitzgerald potentially fished himself right into the Hall of Fame.  He backed up the Marlin release with this nice Jack on a topwater plug.

Check out this email we got from Mr. Fitzgerald: "Hey Craig just wanted to let you know that Cap David and Carlos are a great team! They put me on a bunch of fish today including a 200 plus Striped Marlin!!! Pura Vida! Many thanks John Fitz"
Great work by Captain David, First Mate Carlos, John Fitzgerald and the unconquerable Explorer on the first Striped Marlin of the season.