The Wanderer and Explorer both had outstanding results this season; though we are slightly sad to see the season go, we are already gearing up to make 2012 another banner year! Both boats have been pulled from the water and the all-important work of off-season maintenance has begun.
The Wanderer will be entering her third year of service (man, time flies! It seems like yesterday we sent the Wanderer to Nosara) and she is set for a major refit. First up we will be doing the basic annual maintenance and painting that an every-day boat like this demands, plus we will be patching a few small rough spots in the fiberglass near the pulpit.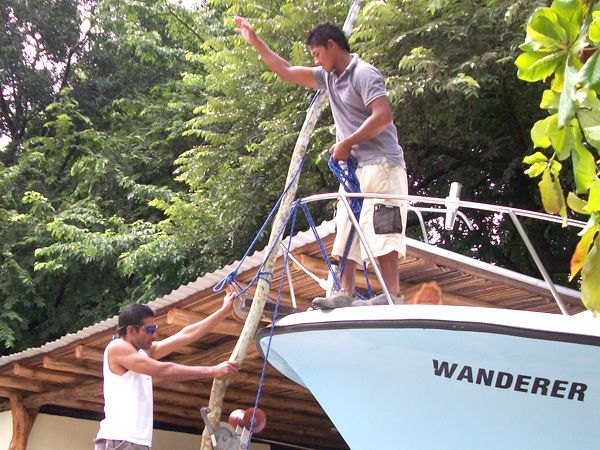 You can see Captain William and First Mate Alex prepping the area for Matty and Craig, Jr.'s arrival next week. Once that is finished we will be cutting the existing top and replacing it with and aluminum/clear vinyl top. This will retain the general functionality of the spotter's tower while saving several hundred pounds of useless weight.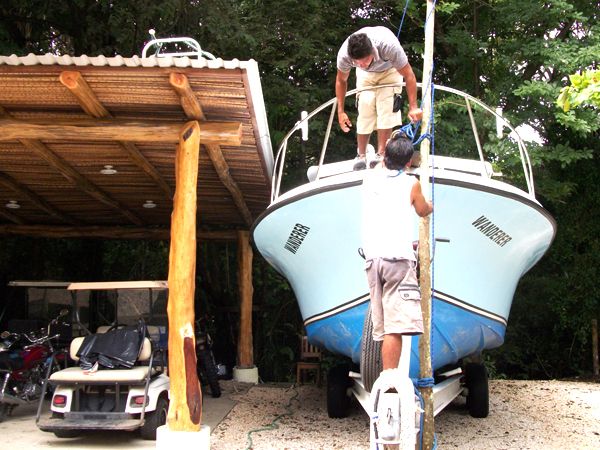 Stay tuned to the FishingNosara blog for pictorials as this project unfolds. Meanwhile Captain David is speedily prepping the Explorer to get back on the water ASAP. The next few months will be a 'soft' off-season, meaning that if their is a break in the rainy weather then the Explorer will be on standby to go fishing.
Captain David is nearly complete with redoing the bottom paint and some light maintenance to the cockpit. Good thing, because we have 10 clients booked in September and more in October who will be watching the skies hoping for a crack at some world-class fishing. Like a high-powered jet fighter on a carrier deck, the Explorer is standing by on 'hot-ready'!
Likewise the FishingNosara Blog isn't taking the season off…in addition to keeping you abreast on our off-season expansion plans (more houses, more Safari Carts, more crazy boat projects) readers can also expect an induction of a new Hall of Fame class, our highly-anticipated FishingNosara Year in Review, and the introduction of the FishingNosara Master Angler series (shhhh…it's still a secret)
Until next time, tight lines y Pura Vida!